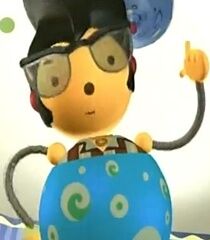 Gizmo is an Elvis-like character. He's Olie, Zowie, Coochie and Coo's uncle, Polina's brother-in-law, Percy's older brother, Aunt Polie Anna's older nephew and Pappy's older son who has lots of magic and uses it to have fun. He speaks with a Tennessee accent like Elvis. His catchphrase is "Just follow the Giz! He's where the action (or whatever is substituted) is."
He is one of the two tetartagonists of Rolie Polie Olie, one of the deuteragonists of The Great Defender of Fun and one of the tritagonists of The Baby Bot Chase.
Personality
Gizmo looks similar to Percy, but now he has tall, black, hair and he speaks differently.
Trivia
Voice actors